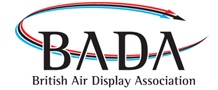 BADA, the British Air Display Association, aims to encourage, promote and advance Safety and Standards in British Air Displays.
Click here to visit our website
• Representing all areas of the British Air Display Industry
• Encouraging and advancing safety and standards
• Bringing new networking and promotional opportunities
Membership is open to all involved in the air display industry, whether as an individual or corporate body. The aim is to build a membership over time that encompasses all areas of the industry – display pilots, Flying Display Directors, Flying Control Committee members, air traffic controllers and air/ground operators, event organisers, dedicated enthusiasts and supporters, photographers and any others committed to the safe development of the air display community.