EVENTS APPRENTICESHIPS

Events Apprenticeships has been set up with the support of UKEVENTS (formerly known as the Business Visits & Events Partnership). At a time of workforce challenges the UKEVENTS Skills, Talent & Diversity Working Group aims to create a recognised and coordinated event apprenticeships offer across the UK events sector.
The Events Apprentice website is available at: https://www.eventsapprenticeships.org/
The structure of reporting is: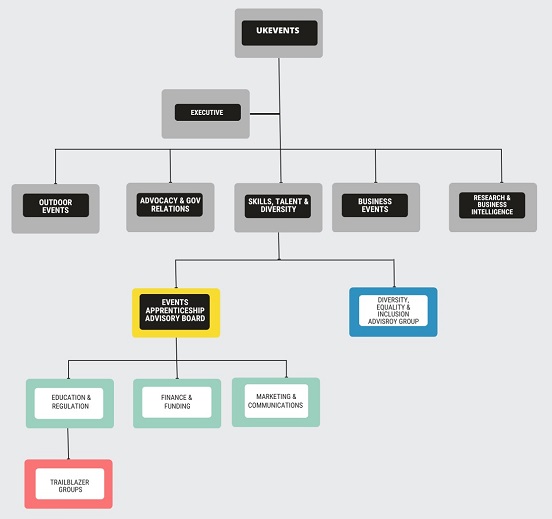 View larger version of the structure here.

Our industry wide working group are focused on three pillars of strategy these are:

Education and Governance pillar group
The education and governance pillar group are responsible for review of the current events apprenticeship standards.
These will be approved and signed off by the Institute for Apprenticeships & Technical Education (IFATE).

Marketing and communications
Building out the key message and accompanying presentations to raise awareness of the programme and keep the conversation going
Engaging with industry media.

Fundraising and governance
Fundraising and governance are responsible for raising funds through partnerships, sponsorship and donations from the industry to support the development of the events apprenticeship programme.
These funds will be raised through industry contributions and sponsorship.

The Events Apprenticeships Advisory Board has been established to take on the mission of "producing an inclusive and accessible apprenticeship framework which meets the needs of the events industry, delivering skilled and confident people with a desire to succeed and contribute."

Picking up the reins of the existing Event Assistant Apprenticeship, the board will work with event businesses to build a sustainable model for success.

WORKING GROUP MEMBERS
Caroline Jackson, BVEP Vice Chair; ST&DWG Chair; Association for Events Management Education (AEME) Executive Committee This email address is being protected from spambots. You need JavaScript enabled to view it.
Richard Waddington, Chair, Event Marketing Association (EMA); EAP Lead This email address is being protected from spambots. You need JavaScript enabled to view it.
Candice Kass, Association of British Professional Conference Organisers (ABPCO) and EAAP project lead)
Claire Fennelow, Executive Director; Event and Visual Communication Association (EVCOM)
Juliet Price, Executive Director; beam
John McEvoy, Council Member; Production Services Association (PSA)
Alysha Sargent, Vice President; National Outdoor Events Association (NOEA)
Lou Kiwanuka, Chair; Event Supplier and Services Association (ESSA)

Email us to sign up for more information>> This email address is being protected from spambots. You need JavaScript enabled to view it.
Follow us on LinkedIn, like and share >> https://www.linkedin.com/company/events-apprenticeships/